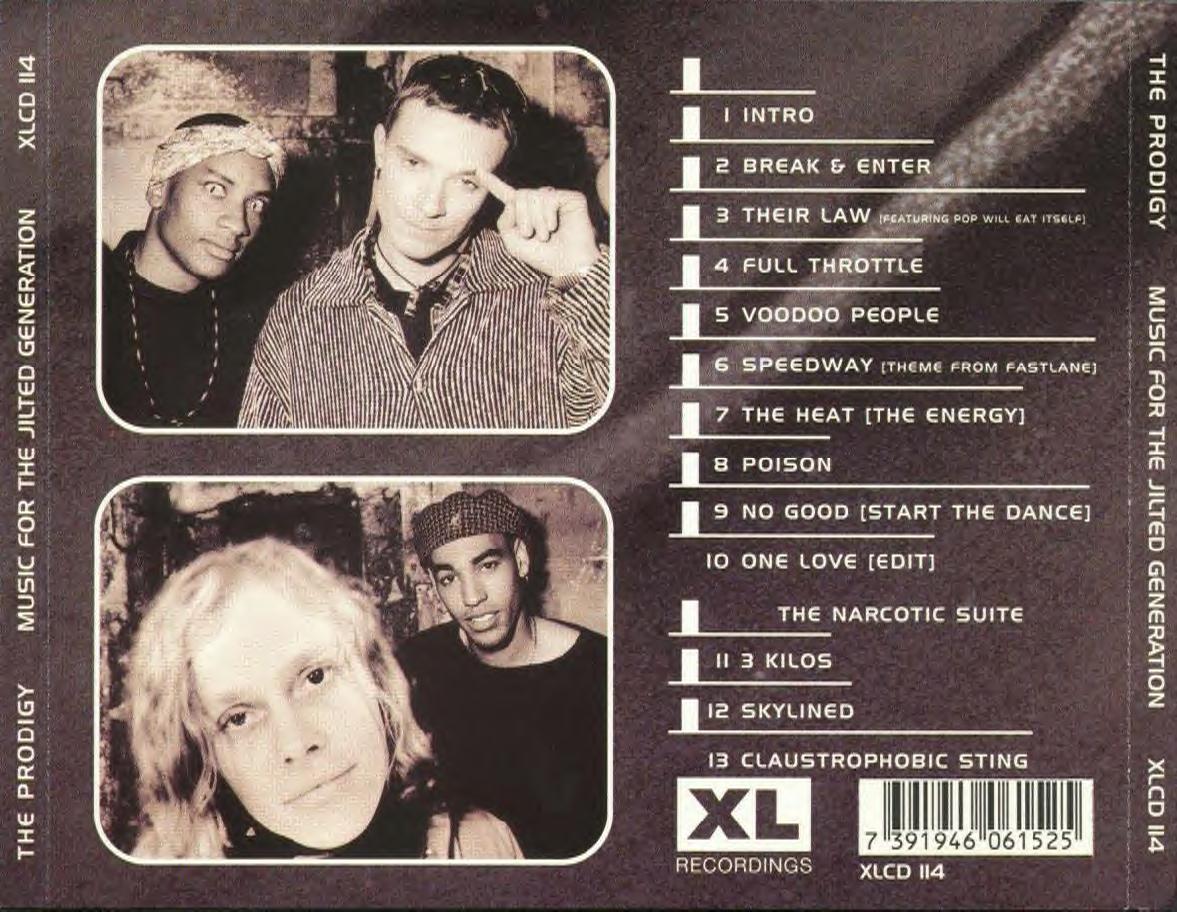 Back in 1995 every kid in my class fancied themselves as some sort of pill munching monkey. Decked out in baggy pants with funny straps, ying and yang symbols , cartoon rastas and about thirty hidden pockets to hide a stash none of us ever had. With bad step hair cuts and
Scooter
on every pencil case, this was the era of whirring legs at the GAA disco as kids fell ovre themselves doing the Leeroy every time "No Good Start The Dance" came on. Musically tracks like "Voodoo People" chewed up a Nirvan riff and spat it back, while the song "3 Kilos" with its wonderful use of a flute solo deserves special mention. God knows what brought rave to rural Ireland, but the chart success of numerous albums like
Jilted Generation
laid enough of a ground work to ensure that every edition of "Top Thirty Hits" had at least one hardcore track to the backdrop of a swirling psychedelic record label logo.
Jilted
was the first album I ever bought, and the indent it left on my musical tastes has been lasting. From the cartoon crusty on the inlay chopping the bridge across a chasm to prevent the cops raiding a rave, to the
Pop Will Eat Itself
colloboration on "Their Law". With its ripping guitar, the buidling towards a tense beat, twisting samples and an eerie hum of a vocal whispering "Im the law, you can't beat the law." The subversiveness of the popular became readily obvious. "Their Law defined the context producing the album. After years of illegal raves, tabloid hysteria and state embarrassment over anti-roads campaigns, the British introduced the Criminal Justice Act on the back of pressure from the breweries lobby. Leaving dance as the first form of music to be directly legislated against as "music wholly defined or predominantly characterised by the emission of a succesion of repeative beats." "So to stop my work falling into wrong hands, I've taken it back underground" announced Howlett at the start but ironically with pure sonic terrorism it swept up the charts.
Jilted
anchored them in the mainstream, the perfect embodiment of the indie cross over methodology. A bloated bloke panting up and down the aisles while faux sneering, the B celeb pages of Sunday tabloid insert mags and compilation tapes being passed off as solo projects; these were all to come.