Tuesday, May 30, 2006
Bong Ra: Call It What You Want-CORE!
Even the fucking air is choking with the strain of waiting for this one, as Bong-ra and his natty dreads get set to batter seven shades of mashed up nonesense out of Irish heads this Thursday night. You'll find him locked away under ragga-jungle, breakcore and even some novelty called "jungle rock" but screw it, we don't work in a record store here so call it what you want-core. If one thing is without doubt, Bong-ra is something of a godfather figure to the mashitup sound, with

his
Utercht Breakcore a Go-Go! nights playing something of seminal role in defining a disparate set of musical definitions into a recognisable scene.

His albums display a ferocious appetite for storming through genres in pursuit of workable elements. These are then matched together in a creeping, dark aural performance of dread inducing tensions. If in doubt play his

I Am The God Of Hellfire

release to any

Prodigy

fan doubtful
of this thing we call breakcore
, and watch it whip up a storm. Collobarations with Hanin Elias, the ex-ATR-er bring the politics of
female sexual empowerment
to his work, while tracks with

Dead Prez

style lyrics also tear into the school system nicely. Early releases like

Grindcrusher Vinyl

free up his own metal tinged past in a brutal marriage of pulsating gabber kicks with wrought iron tearing heavy as hell guitars. No surprise that rumours abound of how Bongra and even Scotch egg are about to jump on board some form of Aaron Spectre's

Drumkorps

project .
When meeting John Peel led to a session on his show a pivotal moment in getting the breakcore/raggacore sound popularised, with the British wave only inevitable in some cack handed sense of a musicology. Do I look like Simon Reynolds bud?

Bongra plays Dublin on Thursday June 1st,
in the Underground@kennedys - Westland Row, D2
. Gig starts at
8.30-late, its in the Underground@kennedys - Westland Row, D2. Kaboogie are doing the hosting honours, while Lakker and Melody Masher come up in the rears on support, next up on their agenda is Aaron Spectre. Fuck yeah!
Labels: Bong-Ra, Kaboogie, Music
(0) comments
Saturday, May 27, 2006
Live Review: Lightning Bolt Are the Band Your Parents Think You Listen To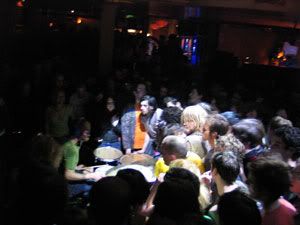 Whelans is a venue thats rarely packed with such intent and my god, was there intent in the eyes of music fans on Wednesday night. Popular music forums had traced the sales of tickets well in advance due to a well placed fearful paranoia that this could be one of those nights where you are left standing at the door. Early on people were clutching tickets in a queue that stretched around the corner, this well before the doors were set to open at eight. And it was all with good reason too, art noise experimentalists Lightning Bolt have the status of live gods, blipping onto the European radar with epic performances at ATP, leaving Sonic Youth to stare down on them from the stage above as they unleashed a furiously characteristic pandemonium in the middle of the crowd leaving hundreds without a view and just a muffled hum. Forming in 1995 amidst the bustling experimentation of the Rhodes Island noise scene. They remain a musical curio of fetishistic experimentation and equipment battery that swings well to the left of whats churned out of even a decent indie scene. As such they were well accompanied on a line up consisting of long time Dublin post-rockers Estel, gabba jockey Scotch Egg and Limerick punkers Give A Man A Kick.
Estel delivered what is typical of their sets over the past 18 months, leaving behind the melodic stoner orchaestrations of their second album Angelpie, I Think I Ate Your Face and souping everything up with some viciously hypnotic synth drone over some pounding drums. And their set truly was hypnotic, wheter thats an indication of the unwillingness of a Dublin indie crowd to move beyond impersonating head nodding corpses or that the echoes of a live Doors favorite "Not To Touch The Earth" could really be heard amidst the musical spirals. Give A Man A Kick quickly delved into new wave by numbers, chiming in with (enough, wait for it..) angular (there's that word....) guitar lines and down tempo choruses to justify (cue rock journo cliche two..) Gang Of Four comparisons.

Liverpool based Wrong Music/Aadat maestro DJ Scotch Egg seems to be dropping in like an unexpected homing pigeon at Lightning Bolt gigs at the moment. As he snuck into the crowd and set up, this small group of Indie kids stood drinking pints, their back to him looking over to the Lightning Bolt kit in expectation of whatever hugely hyped commotion was about to take off. Next thing you know there's this frentic shouting from the hoodied maniac and a boom as one suddenly spills their pint in shock, finding themselves caught in the middle of pulsating eight bit rampage as impatient Scotch Egg fans let loose with gabber punches to the air. The egg man comes on with all the sudden energy of a combo meal, immediately buzzing as he implores the crowd to move with all his charasmatic manic energy for ten minutes before pulling the plug on his Gameboy and leaving you deflated and desperately hungry for more after a typically short set.

Then there's the scrum for the headliners, as a moshing massacre takes hold of the venue. Two eager crowd surfers go up, and are thrown out by bouncers. Descriptions of legendary live sets from Lightning Bolt circulate well on the net and that buzzing anticipation is electric around the gig. Gibson plays the bass manically, with treble tones emanating strong enough to leave you convinced there's someone mangling a six string guitar. The other Brian batters every surface inch of his kit, packing each second with riveting beats. Lightning Bolt sound like a rock band band that have been sampled, reversed and interrupted in an audio chopper, pitchshifted an instance and blasted through a fuzz pedal before being hurled back at the crowd through a giant megaphone. Tracks like the "Faerie Folk" contain a real trance inducing beauty, while "2 Morro Morro Land" contains the real vicious chord progressions that characterise the outfit. Lightning Bolt are the band your parents think you listen to. Listening to them feels like watching a chain saw revving, up then lashing out randomly at the crowd for an hour and a half. Distorted strangled vocals and careening guitar riffs splutter off over a cliff, dragging the crowd with them into the odd punchy melody as a distorted hum redfines the idea of performance and venue. The live music experience can often be as placid as ducks, but with their penchant for playing in actual the crowd on the floor, Lightning Bolt keep a harsh intimate atmosphere alive in even the most cynically designed venues. Watching a five deep crush envelope the floor every second, its a wonder there's no one trying to swing themselves off the balcony. You have well and truly been experienced, the sweat on your back wil testify to that.

Live tracks and video over here ( 2 ) Some photos from the gig are availible over on Thumped.
Labels: Gig Review, Lightening Bolt, Whelans
(0) comments
Thursday, May 25, 2006
ATP 2006: Universal Value Systems and a Dose of Advice From Charles Manson.
All Tomorrow's Parties is one curious beast of a festival. Displaying an acute branding genius, it holds sway with a certain vintage of muso regardless of whatever gets thrown up on the mixing desk. The myth these weekends have cultivated for themselves revolve around the idea of the all inclusive festival, a return to Eden with none of the corporate tie-in's that trample the leaves of your common garden variety festival. At ATP, there's a delusional hope that you are as liable to find Richard D James smoking blow outside your door as have a drunk teenager crash into your tent at 5am. This myth always guarantees a crowd of avidly pepped up enthusiasts. So low and behold cue a festival brimful with girls all wearing exactly the same Top Shop provided faux charity shop dresses. Accompanied by legions of the most self-conscious looking rake thin Indie males, all still pale from being shipped in en masse via container trucks and refusing wholesale to let themselves enjoy anything in case it dare scare well cultivated long faces with a smile.
This is a rites of passage that guarantees a brimming sense of smug satisfaction once you get back to posting online on whatever off the map indie forum wiles away the working day. There's the assurance of a buzzing self imposed musical austerity at ATP, this ain't no Glasto, this is pure unadulterated exclusion. You come here because you are of the curators mindset, there's no mid day ramblings between fields of random "yeah they're ok" bands. This is a pure hit, straight to the heads of muso beard scratchers. ATP bills itself as a showcase of the definite left of centre music scene, it lets you walk through the pages of The Wire magazine as it masquerades as a festival. Then when you are finished your top shelf browse, you can return home and big up your latest musical gems. As the curators make this festival, it was funny that the organisers stuffed the upper shelves of the first weekend this year with as discordant a set of curators as you are ever liable to find. Ranging from grunge survivors Mudhoney, New York fashiontas and indie scene ascendancy hispters the Yeah Yeah Yeahs and finally a nature worshipping hippy operating under the name of Devendra Barnhurt. That's a mix of archetypes that I wouldn't trust enough to DJ at a house party never mind take hold of the musical range of a whole festival. Are we prepare to run straight from the debris when the stereotypes come crashing into each other head on?
ATP is set amidst a sprawling sea side resort called Pontins. While Mosney shipped in the refugees to reap its millions as the housing estates packaged themselves off to the Spanish coast instead of the Irish seaside, Ponitins eyed up the demographic of the offspring of the original children who ran around barefoot in its chalets. Bare moments from a sun washed, sandy beach the resort stands as a bizarre monument to industrial society. While Russia had its artificial beaches, the UK had fields full of prefabricated housing with concrete crazy golf, massive arenas of late night waltzing and the flashing lights of arcades and one arm bandits. All now handed over for this festival to the delight of an urbane class of young professionals. A democgraphic who grew up revelling on the kitsch effect gleaned from a shared ironic attachment to the half broken memories of childhood entertainments and toys. Left to wonder around this open prison, you are left puzzled at how the appendages of decayed and past tense modes of production are revitalised and put once again to productive use for the leisure industry. Wandering around this bizarre ode to modernism late at night, it was piss easy to wind up lost, rambling through its enclaces and circling on its roads. Hero City, Surf City, Echles Green..chalet numbers jarred completely out of any rational order and only a pirate flag in your sitting room window to confirm the individuality of your place of stay.
For the first night Mudhoney outlasted grunge long enough to provide the crowd with re-jigged memories of early teen bedroom tantrums and we moshed ourselves sweaty to them. But as most of their recent work warned the acts they brought in were a cold mix of static seventies stoner rock from the likes of The Drones and The Scientists, leaving an already staid crowd rooted to the spot. If there was a spontaneous outburst all weekend, it came from those sudden moments where the music crashed at the end of the night, quick spaces opening as the previously crammed crowd turned joyfully on itself to kick crushed plastic glasses at each other before being pushed off by security.
Only the Yeah Yeah Yeahs selection whipped up something of a festival fervour but this was purely amplified in comparison to the tedium of the rest of the line up. No-wave noise merchants Macik Markers left pained ringing ears, less due to scrapped electric guitars battered by plastic fish and more due to an over indulgent wank fest in undergrad philosophy from their lead singer best po-mo pronouncements over a cacophonic rehash of the droned out feedback that ends a Sonic Youth song. The Ex-Models provided a blistering set of roof shredding noise in the vein of a less hyper Meltbanana, while fellow NY-er duo Services displayed the only hint that something called rave ever came to pass with a very LCD Soundsystem-esque set of rantings over a fucked sampler that veered from Cabaret Voltaire to the mashed up punchy industrial of Patric Catani. The Yeah Yeah Yeah's gig was more like a convention where every minor regional town hipster this side of Wigan pier circa 1975 gathered to be beamed instructions on next seasons fashion loves and hates via some sort of gamma exuding death ray embedded behind the glasses of Karen O.
With a poor line up, a lot of time is spent taking advantage of the arcades, drinking in the chalets and simply crowd watching. Everyone is on stage, and everything is a performance. Indie girls are following people who look like they are in a band around with cameras. A group of friends who look just like that, mates sitting stoned at a festival are asking each other why the hell that woman is filming them? For a documentary of course, in a world full of Nathan Barley cunts it can only make sense. Two hippies sit in front of you as you are queuing for a car racing arcade game. Like a warped Doors cassette tape hinting at the music it once held before being consciously updated, they are out of synch - is it familiarity or difference? They aren't just fans, there's something more. Why the fuck is that guy filming them? He looks pathetic, drunk you brag loudly about the perpetual idiotic task of finding art even in the down time of a video arcade. But it expresses itself much more along the lines of "posing wankers"than any comment on the culture of performativity. Step off the stage, these wishful hippy fuckers are probably his mates - yet they blank him completely as they stand and leave and he is left to follow in his own path of reverence for them through the arcade. Wait? Was that Devendra leaving credit on a car racing game? Nice one, dickhead. Its saturday night, lets get a party started – not quite. A candle lit dinner blossoms behind your chalet. "Its a real cooked meal AND its going to be in a documentary." God bless us and save us the things ya have to listen to, just to have your fucking craic...
Inside the gig, in that sanctified zone of rest outside the toilets, a four year old child runs by. The girls beside me starts pointing "there's so many chavs at this festival" she drawls in a Londoninnit acccent "one of my friends was going to ask them for drugs, we had to drag him away." The curated TV suddenly appeals with R Kelly's soap opera echoing "Trapped In The Closet" turning into a wry festival highlight, a musical epic of infidelity and his brazen attempt to distract from his impending sentencing for statuary rape. Visiting other peoples chalets is a must at ATP and only after rushing through a blisteringly entertaining hour of Scooter and Queen at another Irish chalet is it time to hit the bar. It comes on with the piss head rush of a classic student bar, with Stone Rose's anthems mixed in with pulsating LFO and Vitalic. The place is dancing like crazy – or is that just the drunk punters on the stage? When its time to go outside in pursuit of a buzz, you are literally dragged along in a manic congo line through one door and out the other deposited in the playground.
Late into the night, bouncing through variant clusters of people, its burgeoning on 6am and sitting on the grass in Surf City opposite a Richey Manic lookalike. Cross legged in his white faded jeans, a pair of brand spanking new Converse and a laboured claim to fame as the singer with a short-lived band "you may've heard of us? We played around London" blissfully ignorant of the cliche cartwheeling out of his mouth he continued "called the Walking Abortions?" My own blissfully clichéd, drunken maggot of an Irish man, comes storming up inside of me prepared to wreck havoc in this quite isolated resort for the retired festival goer and their wuzzy Indie offspring. No amount of MIA from the satisfactory stereo can placate me. The words of Magick Markers still ringing pained in my ears, its all too much and I start to roar: "Wake the fuck up ATP! Universal sets of value systems still exist. The need for free mass education may seem extravagant to a bunch of charity shop dress wearing..." A running blur from my chalet as one of my co-horts rushes out and grabs me by the lapels "James SHUT THE FUCK UP!" Holy shit ATP is expectant, its waiting for a party that will never happen, its waiting for tomorrow, there can be no celebrations – no real celebrations tonight with whatever catatonic state of indie indulgence has been curated for us...pillow, then sleep and hangover.
For the final day all you had to do was factor in a line up curated by nature worshipping Devendra Banhart and his "gobshitey" face. Far too folk seemed to have a problem when this wispish hippy, looking like the wind blew him away from sucking on an acid tinged mole on the side of Jerry Garcia's arse came on stage and started muttering to himself "man...we...glad to ...be here...we are all..same direction...vibes." As for some of the others, groups like the Metallic Falcons looked like they took too much advice from Charlie Manson. Scarred by the 60's and reliant on blessing a stage with incense before murmuring cathedral reverb-ed vocals to the ground. You quickly realised it was time to head back to the chalet for a marathon run of Dr Who and write this festival off and deal with the continued stomping hangover.
Labels: ATP, Gig Review, Music, Travel
(2) comments
Wednesday, May 24, 2006
Film Review: V For Vendetta
Note that this is a review inspired more by
a thread here
than the film itself. When it comes to anarchism in the cinema, its rare the silver screen gives it a fair tossing over. Loach may have been kind in following the Poum and CNT, but films like "The Anarchist Cookbook" do as much to conflate anarchism with fascism and violence as explore its worth as a political philosophy. There's another appaling German one called "What to do in case of fire" about a gang of ex-squatter members of an art collective that models itself stylistically on the RAF. As an art prank they set a bomb in an empty house and twenty years later it goes off, no ones injured but the five are forced to revisit their past in the autonome mileu, facing up to their own sell out and co-option. Of course one has remained pure to heart and watched his movement decay, no surprise by the end he ends up identifying more with the special branch cop who's been trailing him for years than his ex-comrades.
On V - it was an alright movie, it carried you through for the hour with all the edge of the seat excitment a good action flick should have. There were some substantial jarrings with the original comic that did my head in quite a bit. The updating to a post-911 scenario is really an idiots trick to assuage demands for some form of intellectualism in a generally arid Hollywood. Leaving it intact as a commentary on the fascistic aspects of states inspired by Thatcher would have been far more useful politically. It would have avoided the trap of counterposing a boring and uninspired American liberalism to a fascist state with a figure head as threatening as Dr X from Action Man. I think that at least, was Alan Moore's big problem with the film and why he had his name taken off it.
Another telling way this was just a cash cow with a very subtle political overtone was the amount of action sequences. V gets armed with knives in this, whereas in the comic he twarts his chasers and enemies with tricks and the force of his intellect - the film makers just give us some fancy action sequences for the third class bully boys. Also leaving out Finch's acid trip to get inside V's mind in Larkhill was a strange dumping of what could have been an interesting cinematic sequence. As for the final rebellion and the destruction of parliment - whatever, a nice rushy end to a standard action movie with its deeper political content dumped for a Rage Against The Machine "fuck you I won't clean up my bedroom" climax.
Labels: Film, Politics, Social Movements
(0) comments
Friday, May 12, 2006
DJ Rupture Set To Lay It Down.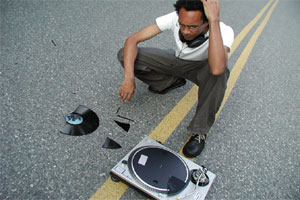 Dublin punters are in for a treat next weekend as mixing virtuso DJ/Rupture kicks off in the Belvedere. Infused with what pitchfork have described as a multicultural "ghetto to ghetto" approach, Rupture cascades across genres ram raiding the vaults of variant musical traditions for the ley lines in between that mark a common point of musical evolution. Once these similarties are exposed, he uses them to build intricately flowing mixes that take listeners on a right old voyage through the best of grime, ragga, world music and commercial hip hop. Ripping melodies from Missy Elliot and building into a crescendo of Venetian Snares lifted gabba, then weaving political criticisms of police violence with the use of Dead Prez vocals before tearing off into a more nuanced world music buzz.
Rupture first came to relative prominence in 2002 with a pair of densely organised mixes the previously download only Gold Teeth Thief which then got a release on Tiger Beat 6 and Minesweeper Suite. He has released one album as a producer, Special Gunpowder which in many ways disappoints. Starting off with the spoken word of Watermelon City and the soulfoul tinged gospel of a politically charged Lil More Oil to Manu Chao-esque reverbations, it was an album that really sought to expose his strenghts as a producer rather than a cut and paste mish mash of the strenghts of various genres. Whatever he lays down come Saturday night, you can be certain its going to be a lot more subtle and intelligent those who ruthlessly associate him with breakcore, ignoring his own musical philosophy of "non-stop pluralism."
All You Can Beat present DJ Rupture, The Belvedere, 13 May.
Labels: Breakcore, DJ Rupture, Music
(0) comments
Monday, May 08, 2006
Viagra High Wizards
I have been using a Yahoo account now for many years. Actually when I was helping a mate the other day set up his computer and his first non work email account I ended up suggesting using Yahoo. Any of the other more "ethical" choices would take too long and he needed an email address in order to register his programs and start his life on the world wide web. He did say though, come the revolution he would save my good name by not mention my suggestion. I suggested yahoo over some of the other "non-ethical" choices because in all the years I have had it I never once have an email in my inbox that suggested I buy viagra or get breast inplants. Once in a while you get some guy from Africa asking for money but if you say its spam then you either never get them again or they are directed toward your bulk folder.
So today when I got an email from a name I didn't recognize I clicked on it wearily. The email including part of a fatasy story which I thought was odd and milding entertaining:



swept the stone floor. The big man was frowning at first, but they did their very best to be frightfully polite, and kept on nodding and bending and bowing and waving their hoods before their knees (in proper dwarf-fashion), till he stopped frowning and burst into a chuckling laugh; they looked so comical. Troop, was right, he said. A fine comic one. Come in my merry men, and what are your names? I dont want your service just now, only your names; and then sit down and stop wagging! Balin and Dwalin, they said not daring to be offended, and sat flop on the floor looking rather surprised. Now go on again! said Beorn to the wizard. Where was 1? O yes€" I was not grabbed. I killed a goblin or two with a flash- Good! growled Beorn. It is some good being a wizard, then and slipped inside the crack before it closed. I followed down into
So where does this story lead to . . . a link to a viagra site of course. I suppose a story about a big man slipping inside a crack could have meat nothing else. Maybe it is time I get myself a riseup account or the like. Maybe it is time I get myself a riseup account or the like.
(0) comments
Sunday, May 07, 2006
Racism In Ireland?
Just a normal day in any Spar or Centra in dublin, the Polish security gaurd getting loads of abuse off some Dublin lad. This time is starts a a young age. A eight year old kid is asked by the security to take his bike outside the shop. Fair enough eh, well not when there is a question of nation at heart. "Where you from?" shouts the youth, when he gets Howth as a reply he goes off on if if he is from Howth then why can't he speak english.
A mate of mine from Toronto wrote a good blog about this years ago about being Asian in Toronto. She always gets "where you from ?" Scarbrough (the east end of the city) is not what people are looking for. Even though this particular girl was born in Toronto and has less of a Filipino accent then I do, the assumption is that she is from elsewhere. In liberal Toronto although the underline assumption is racist the face value of the question is kind and just out of interest.
The difference here in Ireland is the face value. I get asked all the time where I'm from and D8 is not what they are looking for, but I'm white and have english as my first language. If you are not white even if you have been here your whole life, or you come from an Eastern European country expect the interaction to be loaded with hate.
To be from a non english speaking country here really does put you at a lower level. I would argue that it puts you at the level of women in alot of ways. You get talked down to and get abuse for things that the same person would never dream of saying to a Dublin lad. If you are not from ireland in the traditional sence then you will always be an outsider. This is a country where if your family moved counties at one point you will always be a blow in.
Blow ins may never be seen as fully intergrated memebers of the community but I wonder if they are seen as stealing peoples jobs. Stealing jobs. Such an interesting concept. As Ciaran said last night "how can they be stolen if they are not yours in the first place?" If someone else goes for a job and gets it, they didnt' steal it from you, especially if you didn't even apply.
The class question here is that these "foriegners" will do the same job for less money. This is how a job is stolen, someone can out bid you. But what is missed in this is that we are not working under a bartering wage system. If jobs are not providing the wage and security that are intially advertised this is not a matter of race but rather a matter that should bring workers solidarity. Once again the bosses have figured away to lower their expenences, screw over workers and the best part is that they have a scapegoat and the people are buying to it, the permenant blow-ins.
Labels: Dublin, Politics, Rant, Society
(1) comments
Tuesday, May 02, 2006
Did You Miss The Rave?
For those of us operating under the brute idea that we are missing out generationally on some indefinable sense of unity under the banner of a counter culture of our own making, then the summer rave season really is an opportunity to delude ourselves and take a trip to a field in the middle of County Nowhere and walk in the wrong direction away from all signs of public transport for three hours come twelve o'clock the next morning. Such is the material behind the make up of the rave nostalgia trip, which on the back of reports seems to attract dwindling numbers each and every summer. With less and less sound systems on the go, the isolation facing the remaining ones become tantamount to a fear of organisation and action as the support that is neccesary to carry off the party is solely lacking.
And anyway, if people are no longer awed by the prospects of drinking out doors instead of being stuck in cack handed nightclubs across Dublin, or are thrilled at the cuntish prospects of listening to the Velvet Underground tradition being mutilated behind recognition by a slew of NME sponsered white boys on guitar - then do you see any reason for their to be a fertile out door party scene? Arguably in a sense, the party scene may have seen its culmination, just like in the UK with the 1,000 strong city centre RTS parties three years ago. Who would have thought it at the time? Anyway, it's easy to speal of a rave
clampdown
a few years ago complete with
copper choppers
coming in over head. Those who persist certainly seemed to enjoy last weekened in Donabate as these photos
from a Flickr set created by
George Kaplan
attest and you can view
more
from a rave two summers ago and this one at the ever good website of Skatter.
(0) comments
Monday, May 01, 2006
Sixty Seconds On Films: April, 2006.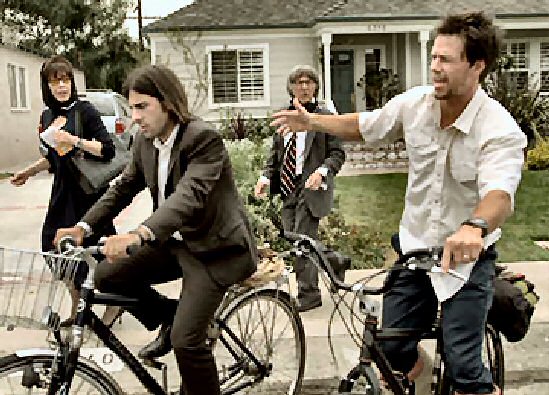 Okay - so whats the deal? Well the plan is to do some pretty succint reviews of the films I see each month in one post, and then start another similar thread at the start of the next month. Films can be both contemporary, recent and old. Previous Sixty Seconds On Films: March, Feb and Jan'06.
Sky Captain and The World Of Tomorrow: entertaining as hell adventure flick in the vein of

Indiana Jones

, and coming with all the essential elements of its main characters. So a bunch of iron giants pour out of the sky to rob the world of its resources and an evil genius is bent on its destruction who can stop it all before a dooms day device goes off? Eh, Sky Captain of course in his shitty little bi plane.. Using a cinematic style that tries to recreate the atmosphere of old 1930's sci-fi's, plundering their plot lines and with something of a nod to steam punk - Sky Captain is perfect hangover drivel to leave your brain pigging out to while shoving handfuls of jellies into your gob.


House Party:cliches are as rampant in early 1990's ghettolore as they ever were in Glenroe, this movie slumbers up to the spot with all the regrettable style of hammer time as former rap duo Kid n Play go about getting their kicks on a weekend through organising a house party. If you ever wondered what Will Smith would have been like had he never moved to Bel Air, you'll probably get some idea from this disappointing reminder of just how enamoured we all were with early 90's hp hop culture and anyone with some gimick like wearing your jeans backwards. The film even has a moralistic, didactic approach to drink and sex (drugs don't even get a look in) to rival the Camdens.


Bad Santa: a movie to really match the reality of Christmas, rip roaringly disorderly it drunkenly crashes through the Christmas spirit before getting out to empty its beer full bladder over whatever schmaltz is left. This is a laugh out loud comedy, with your stomach left splitting at all the wrong moments, switched onto the scam of two mismatched small time hoods who score jobs as Santa and dwarf in shopping stores before ripping them off on Xmas eve.


I Heart Huckabees: there are two ways of looking at this one, allow the whimsical existential meanderings to put you right off or relish in the hilarious caricatures sketched out by the deep and darp pessimistic tones of a director who last brought us the cynicsm of Three Kings.



Hackers 2: The Takedown: an overly long excerise in a sleep inducing techno-would be thriller that follows the crackdown on one of California's biggest and baddest hobbyist hackers. Yes and thats right, it is a totally unrelated sequel content wise to a previous film. Cashcow.



Acid House: Irvine Welsh's Acid House paints a dense series of portraits of urban life from drug addled escapism to juggling jobs. This TV adaption manages however to choose four of the worst stories in the collection, cross breeds them with a good dose of the Renford Rejects and slaps them up for a cheap sunday serving minus the carvery. Fucking shameful.


Deuce Bigalow: Part of that genre of Hollywood comedy that immediately summons images of Hawian shirts to mind and is as such generally avoided. Film critic Patrick Goldstein of the LA Times described the sequel as missing out on an Oscar because "nobody had the foresight to invent a category for Best Running Penis Joke Delivered by a Third-Rate Comic." His review of the original was probably every bit as spot on.
Labels: Film
(0) comments
About Soundtracksforthem specialises in iconoclastic takes on culture, politics, and more shite from the underbelly of your keyboard. A still-born group blog with a recent surge of different contributers but mainly maintained by James R. Big up all the contributers and posse regardless of churn out rate: Kyle Browne, Reeuq, Cogsy, Chief, X-ie phader/Krossie, Howard Devoto, Dara, Ronan and Mark Furlong. Send your wishes and aspirations to antropheatgmail.com
Label Cluster
In no certain order... Politics, Guest Bloggers Interviews, Music, Internet, Guest Bloggers, Travel, Blogging, TV, Society, Film, Gig Reviews, Art, Media.
The Neverending Blogroll
A Womb Of Her Own
Arse End Of Ireland
BlissBlog
BBC One Music Blog
Blackdown Sound Boy
Buckfast For Breakfast
Customer Servitude
Counago & Spaves
C8
Candy PDF Mag
Guttabreakz
House is a Feeling
Homoludo
Infactah
Indymedia
Indie Hour Blog
Jim Carroll
kABooGIE MusIC
Kid Kameleon
Kick Magazine Toronto
Libcom
Matt Vinyl
Modern Cadence
Mongrel
Nialler9
One For The Road
Old Rotten Hat
Pitchfork
Salvo
Spannered
Sigla
Test
Thumped
Newish Journalism
TV Is Crying
Uncarved
Una Rocks
Urban75
Weareie
WSM
Wooster
Village Magazine
Radical Urban Theory

Archives
February 2002 October 2002 April 2003 September 2003 November 2003 December 2003 January 2004 February 2004 March 2004 June 2004 September 2004 January 2005 February 2005 March 2005 April 2005 June 2005 July 2005 August 2005 September 2005 October 2005 November 2005 December 2005 January 2006 February 2006 March 2006 April 2006 May 2006 June 2006 July 2006 August 2006 September 2006 October 2006 November 2006 December 2006 January 2007 February 2007 March 2007 April 2007 May 2007 June 2007 July 2007 August 2007 September 2007 October 2007 November 2007 December 2007 January 2008 February 2008 March 2008

Postings
Gig Review: The Fall Tripod
Gig Review: Gogol Bordello
Broken Pencil Gets It's Irish On
Fecking Civil Servents
Fake Pharma Ads
Vidiot: Data Entry
Life and Debt
Last Night Cosmo Baker Saved My Life / Hip Hop His...
Eye Candy: Dufferin Hoarding Gallery
Review: Heads for the heart of the Sun – The Welco...