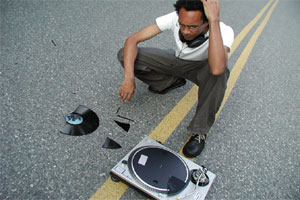 Dublin punters are in for a treat next weekend as mixing virtuso DJ/Rupture kicks off in the Belvedere. Infused with what pitchfork have described as a multicultural "ghetto to ghetto" approach, Rupture cascades across genres ram raiding the vaults of variant musical traditions for the ley lines in between that mark a common point of musical evolution. Once these similarties are exposed, he uses them to build intricately flowing mixes that take listeners on a right old voyage through the best of grime, ragga, world music and commercial hip hop. Ripping melodies from Missy Elliot and building into a crescendo of Venetian Snares lifted gabba, then weaving political criticisms of police violence with the use of Dead Prez vocals before tearing off into a more nuanced world music buzz.
Rupture first came to relative prominence in 2002 with a pair of densely organised mixes the previously download only Gold Teeth Thief which then got a release on Tiger Beat 6 and Minesweeper Suite. He has released one album as a producer, Special Gunpowder which in many ways disappoints. Starting off with the spoken word of Watermelon City and the soulfoul tinged gospel of a politically charged Lil More Oil to Manu Chao-esque reverbations, it was an album that really sought to expose his strenghts as a producer rather than a cut and paste mish mash of the strenghts of various genres. Whatever he lays down come Saturday night, you can be certain its going to be a lot more subtle and intelligent those who ruthlessly associate him with breakcore, ignoring his own musical philosophy of "non-stop pluralism."
All You Can Beat present DJ Rupture, The Belvedere, 13 May.
Labels: Breakcore, DJ Rupture, Music