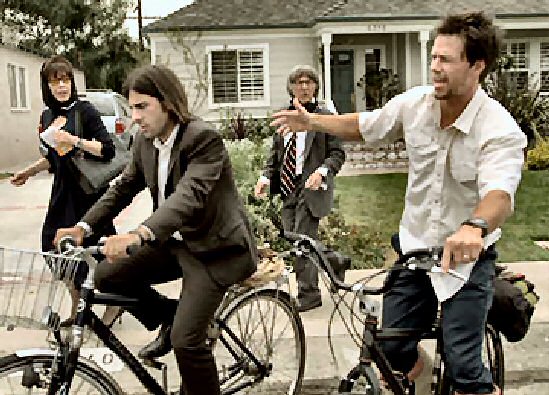 Okay - so whats the deal? Well the plan is to do some pretty succint reviews of the films I see each month in one post, and then start another similar thread at the start of the next month. Films can be both contemporary, recent and old. Previous Sixty Seconds On Films: March, Feb and Jan'06.
Sky Captain and The World Of Tomorrow: entertaining as hell adventure flick in the vein of

Indiana Jones

, and coming with all the essential elements of its main characters. So a bunch of iron giants pour out of the sky to rob the world of its resources and an evil genius is bent on its destruction who can stop it all before a dooms day device goes off? Eh, Sky Captain of course in his shitty little bi plane.. Using a cinematic style that tries to recreate the atmosphere of old 1930's sci-fi's, plundering their plot lines and with something of a nod to steam punk - Sky Captain is perfect hangover drivel to leave your brain pigging out to while shoving handfuls of jellies into your gob.


House Party:cliches are as rampant in early 1990's ghettolore as they ever were in Glenroe, this movie slumbers up to the spot with all the regrettable style of hammer time as former rap duo Kid n Play go about getting their kicks on a weekend through organising a house party. If you ever wondered what Will Smith would have been like had he never moved to Bel Air, you'll probably get some idea from this disappointing reminder of just how enamoured we all were with early 90's hp hop culture and anyone with some gimick like wearing your jeans backwards. The film even has a moralistic, didactic approach to drink and sex (drugs don't even get a look in) to rival the Camdens.


Bad Santa: a movie to really match the reality of Christmas, rip roaringly disorderly it drunkenly crashes through the Christmas spirit before getting out to empty its beer full bladder over whatever schmaltz is left. This is a laugh out loud comedy, with your stomach left splitting at all the wrong moments, switched onto the scam of two mismatched small time hoods who score jobs as Santa and dwarf in shopping stores before ripping them off on Xmas eve.


I Heart Huckabees: there are two ways of looking at this one, allow the whimsical existential meanderings to put you right off or relish in the hilarious caricatures sketched out by the deep and darp pessimistic tones of a director who last brought us the cynicsm of Three Kings.



Hackers 2: The Takedown: an overly long excerise in a sleep inducing techno-would be thriller that follows the crackdown on one of California's biggest and baddest hobbyist hackers. Yes and thats right, it is a totally unrelated sequel content wise to a previous film. Cashcow.



Acid House: Irvine Welsh's Acid House paints a dense series of portraits of urban life from drug addled escapism to juggling jobs. This TV adaption manages however to choose four of the worst stories in the collection, cross breeds them with a good dose of the Renford Rejects and slaps them up for a cheap sunday serving minus the carvery. Fucking shameful.


Deuce Bigalow: Part of that genre of Hollywood comedy that immediately summons images of Hawian shirts to mind and is as such generally avoided. Film critic Patrick Goldstein of the LA Times described the sequel as missing out on an Oscar because "nobody had the foresight to invent a category for Best Running Penis Joke Delivered by a Third-Rate Comic." His review of the original was probably every bit as spot on.
Labels: Film