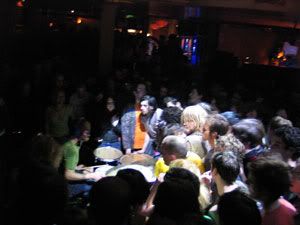 Whelans is a venue thats rarely packed with such intent and my god, was there intent in the eyes of music fans on Wednesday night. Popular music forums had traced the sales of tickets well in advance due to a well placed fearful paranoia that this could be one of those nights where you are left standing at the door. Early on people were clutching tickets in a queue that stretched around the corner, this well before the doors were set to open at eight. And it was all with good reason too, art noise experimentalists Lightning Bolt have the status of live gods, blipping onto the European radar with epic performances at ATP, leaving Sonic Youth to stare down on them from the stage above as they unleashed a furiously characteristic pandemonium in the middle of the crowd leaving hundreds without a view and just a muffled hum. Forming in 1995 amidst the bustling experimentation of the Rhodes Island noise scene. They remain a musical curio of fetishistic experimentation and equipment battery that swings well to the left of whats churned out of even a decent indie scene. As such they were well accompanied on a line up consisting of long time Dublin post-rockers Estel, gabba jockey Scotch Egg and Limerick punkers Give A Man A Kick.
Estel delivered what is typical of their sets over the past 18 months, leaving behind the melodic stoner orchaestrations of their second album Angelpie, I Think I Ate Your Face and souping everything up with some viciously hypnotic synth drone over some pounding drums. And their set truly was hypnotic, wheter thats an indication of the unwillingness of a Dublin indie crowd to move beyond impersonating head nodding corpses or that the echoes of a live Doors favorite "Not To Touch The Earth" could really be heard amidst the musical spirals. Give A Man A Kick quickly delved into new wave by numbers, chiming in with (enough, wait for it..) angular (there's that word....) guitar lines and down tempo choruses to justify (cue rock journo cliche two..) Gang Of Four comparisons.

Liverpool based Wrong Music/Aadat maestro DJ Scotch Egg seems to be dropping in like an unexpected homing pigeon at Lightning Bolt gigs at the moment. As he snuck into the crowd and set up, this small group of Indie kids stood drinking pints, their back to him looking over to the Lightning Bolt kit in expectation of whatever hugely hyped commotion was about to take off. Next thing you know there's this frentic shouting from the hoodied maniac and a boom as one suddenly spills their pint in shock, finding themselves caught in the middle of pulsating eight bit rampage as impatient Scotch Egg fans let loose with gabber punches to the air. The egg man comes on with all the sudden energy of a combo meal, immediately buzzing as he implores the crowd to move with all his charasmatic manic energy for ten minutes before pulling the plug on his Gameboy and leaving you deflated and desperately hungry for more after a typically short set.

Then there's the scrum for the headliners, as a moshing massacre takes hold of the venue. Two eager crowd surfers go up, and are thrown out by bouncers. Descriptions of legendary live sets from Lightning Bolt circulate well on the net and that buzzing anticipation is electric around the gig. Gibson plays the bass manically, with treble tones emanating strong enough to leave you convinced there's someone mangling a six string guitar. The other Brian batters every surface inch of his kit, packing each second with riveting beats. Lightning Bolt sound like a rock band band that have been sampled, reversed and interrupted in an audio chopper, pitchshifted an instance and blasted through a fuzz pedal before being hurled back at the crowd through a giant megaphone. Tracks like the "Faerie Folk" contain a real trance inducing beauty, while "2 Morro Morro Land" contains the real vicious chord progressions that characterise the outfit. Lightning Bolt are the band your parents think you listen to. Listening to them feels like watching a chain saw revving, up then lashing out randomly at the crowd for an hour and a half. Distorted strangled vocals and careening guitar riffs splutter off over a cliff, dragging the crowd with them into the odd punchy melody as a distorted hum redfines the idea of performance and venue. The live music experience can often be as placid as ducks, but with their penchant for playing in actual the crowd on the floor, Lightning Bolt keep a harsh intimate atmosphere alive in even the most cynically designed venues. Watching a five deep crush envelope the floor every second, its a wonder there's no one trying to swing themselves off the balcony. You have well and truly been experienced, the sweat on your back wil testify to that.

Live tracks and video over here ( 2 ) Some photos from the gig are availible over on Thumped.
Labels: Gig Review, Lightening Bolt, Whelans