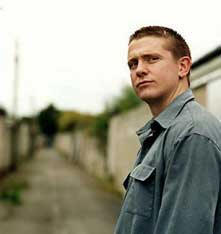 Lets face it - this bloke did himself no favours whatsoever with the release of "Dublin Town" a few years back. Recieving saturation air play on 2fm, as Gerry Ryan audibly tried to prole himself up through association, most of us were only too right to dismiss him as a purveyor of inane Guinness soaked folk that was dangerously veering towards the Richie Kavanagh novelty market.

Hearing auld Damo was playing in the UCD Student Bar last week - I was hardly going to give a fuck untill a free ticket sprung my way. Saving himself from the one hit wonder wilderness with

They Don't Teach You This Shit In School

and

Seize The Day

, a following seemed to sprout around Damo that I just couldn't understand, well why would I? As people earnestly put it, you'd have to be from the Northside (D4 would suffice as well though) before you could

get

Damo. So with my head full of ghastly images of sweaty blokes in football jerseys with their arms around each other like a nightmare vision of an Aslan gig I headed on in.

My head was brimming with pre-prepared sarcy put downs - "who let this bloke think he's Bob Marley?" The wind was pleasantly knocked out of my usual guff from the off, after a fair few gigs in the UCD Student Bar, this was definiately the most kicking. Despite supporting Morrisey on tour the bloke remains a relative unknown outside Ireland
and remains
fairly bashful
.
Its easy to see why many rush to crown him as the bastard heir to Strummer or Marley, but such talk is rather delusional. His gimmick is the hackneyed, delivery of heart wrenchingly proud
lyrics of survival while the world shits on you, setting himself against the rest of the Dublin singer songwriter mileu by emphasising the stutterings of his north of the Liffey brogue. The traumatic passing through girlfriends is jettisoned for a peek at the underside of the Celtic Tiger:
"The cost of a run-down house is absurd, what we gonna do, have to move in with the woman in the shoe."

The lyrics are patchy, as he sings of coming down, the self consuming Celtic Tiger and the corruption of the city.


Dignity, honour, pride are all words that bristle in reviews and articles lauding Damien Dempsey, so it's not his musical skills or qualities that earn him his fan base then? From what I could see at this gig, its the role he has taken on within post-celtic tiger Ireland as some sort of signifier for the remnants of an old idea of what it meant to be Dublin and working class.
Latching on to this idea allows people to define themselves with an identity seperate to the success of the Celtic Tiger, but neither the music or this approach to looking back to a historical image based idea of what it means to be on one end of a social relationship offers a way out. If Damo has sussed out a market in this, then it is a con job that can easily take you in. Helped of course, by the powerful delivery of some pretty thought provoking songs.
Labels: Gig Review, Music, Politics