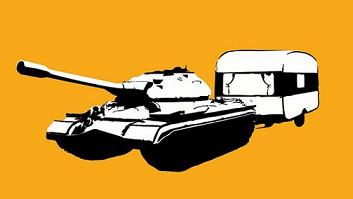 The art world is definitely a funny one. Just three or four years ago the subversive mashing of pop-cultural images with political sloganeering that flowed from a certain Banksy's can gave a
graphical edge to the simmering
anti-war movement. For once proving that political posters/propaganda does not have to resort to certain tired themes, as boring and as staid as a tabloid front cover or as hackneyed as a '82 style punk album cover. Movement material could instead flit around at the edges of pop-culture, taking what was needed to wholly redefine the aesthetics of our politics. It was a nice idea, not that much of this was done. The wall stencils of Banksy, mainly ended up inspiring advertisement agencies and interior designers laying out shops like Motion Picture. Leftist graphic designers would grab one or two of his images to repeat untill vomiting, or exploit the brightness and contrast filter in Photoshop to produce obnoxious photocopied travesties that strove for the aesthetic but dropped the effort to remix pop cultural commodities to sell a point.
On display in the Front Lounge this month is the work of
Will St. Leger
, a sometime activist with Greenpeace he runs under the guise of an artivist and is one of a generation of us influenced by the work of Banksy. Leger engages in stencilling on canvas, basically rendering his playings in photoshop on to a permanent surface. From a graphic design background he has designed various subvertisements for Greenpeace, picking up on the general vogue for aping the undermining of the diminant values of advertisement culture. Some of these are on display in the Front Lounge, his peace on nuclear power shows Sellafield with a car freshener clipped to the smoke stacks. One of his more impressive pieces has several US transport helicopters plonk an IKEA into Iraq. There's a friendly play on the Robocop franchise when a pair of the emblematic Mickey Mouse ears are daubed onto a three tone stencil of the droid that was to replace the original Robocop in the sequel. There's a crude but effective meshing together of traditional Irish nationalism and celtic tiger consumer when Michael Collins gets a pair of shopping bags placed in his hands.
None of this is amazing though. Look at the price list and it quickly becomes enraging. Down the back of the bar there are maybe three single tone pieces, down using card baord probably, free hand cut outs, no evidence of preparation in photoshop and botched with the spray paint having leaked over the stencil borders. Still they carry a hefty €50 tag. Most of the other work comes in and around €300 for what is generally second generation Banksy cloning. But then Banksy did rip off
Blek Le Rat
(
1
) himself. Blek was one of the first stencil artists, who left Paris covered with potted images of Northern Irish riot cops and old catholic men and women looking out from their door steps onto the streets of the left bank as one of his many stencils. The difference between Will St. Leger, Blek Le Rat and Banksy is that two of these have plastered their streets and one hasn't. The guilty one here is Leger, who is really engaged in the lazy reproduction of an art style that at one stage may have had an original, subversive character but now is quickly becoming tired.
Good discussion on
"ICN..art or just visual piss?"
over on Thumped.
Labels: Art, Banksy, Street Art