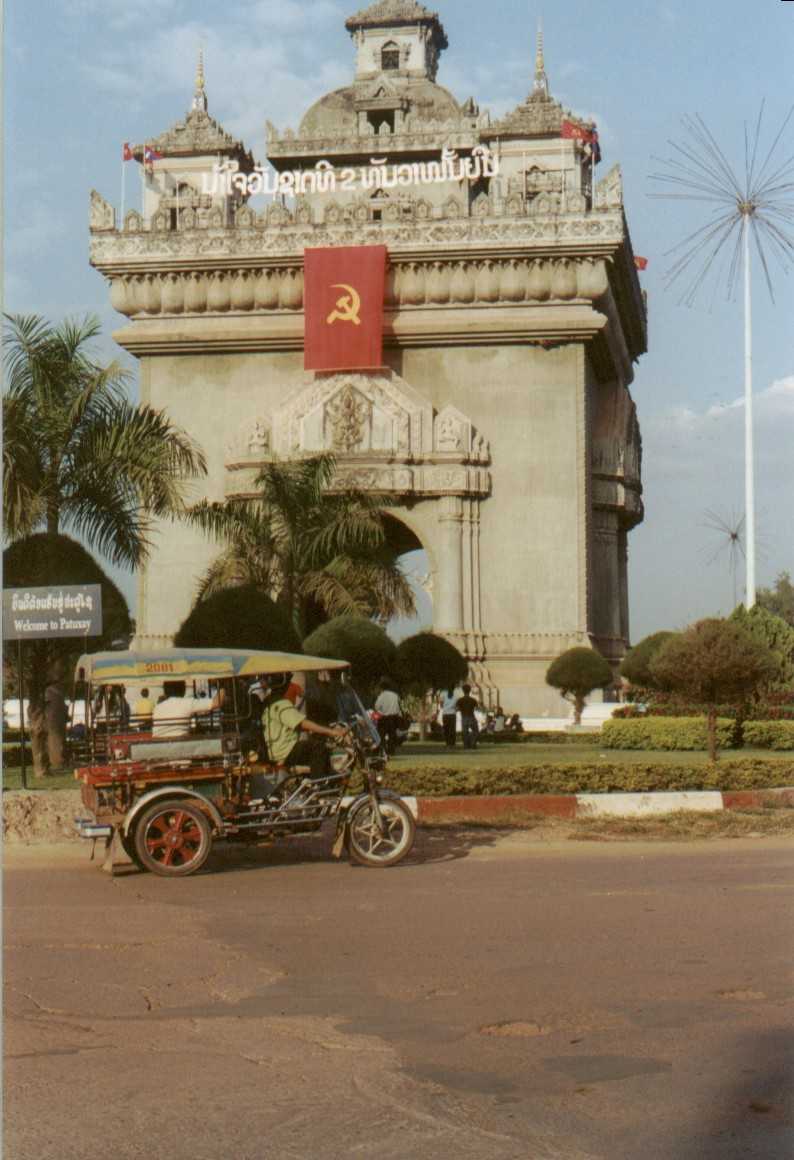 So I haven't blogged about the south east asia adventures in some time now, to be fair there was an extensive time where I had no access at all to the internet and another short while where the price was so inhibitive that I could only come on for the shortest time. But still here I am less then two weeks from the end and in yet another country. Laos. Who knows anything about Laos, any one any one? seriously who has been here. After the 1975 communist revolution the borders were closed and only ten years ago reopened. Initially getting in the country was a feat onto itself, you could only come in on organised tours. This was all speculating on human rights violations - keeping the westerns out. But now after a 13 hour train ride fom Bangkok (which I might add we stopped it in its tracks at 5:20 in the morning, with sleepy eyes we nervously mentioned to the armed worker that we don't yet have a ticket and he smiles, laughs when we say we are going to the end of the line and charges us around 3 euros. 3 euros- 13 hours!) you arrive in a town on the north east of Thailand. Take a bus over the friendship bridge that the Australians paid for, get your phone taken at the back of a fruit stand, fill out a few forms, pay a bit of american money and you are in for 15 days.
This country is so sleepy and relaxed, my heart beat has dropped during my acclimitisation to the culture. We arrived in the capital during the 8th national congress of the revolutionary party. Communist flag and Laos flag covering all buildings and streets. Laos also being an ex French collony has beautiful collonial buildings everywhere, great cheese, bread, wine etc and all these luxuries for the budget of a crusty punk.
We spent the first day treating our selves. We had taken sleep very little in the past week or so, early trains, over night buses getting us from the most sourthern part of thailand to laos in a few days. And before that we spent a week camping on beaches (1 euro a night). so we went to this herbal sauna and massage. 2 1/2 hours for only 3 or so euros! We could harldy understand this city, everything was so beautiful, people laughing all around us, the food was the best I have had since I got here and at prices; well I think you get the point.
We leave this wonderful capital city on yet another night bus (we loved traveling with the locals, somehow we seem to never have any tourists with us) to this absolutely fabulous world heritage city. Again the French influence is beautiful and since they have serious funds for keeping the city looking good, they do! Here we do things like take a private kayak trip down the river and many rapids and paddle under the cliffs of insanity. We show up at a rain forest with furious waterfalls and pools and again are the only ones there. Its in the off season and we go places on the off times but I tell you its worth it, swimming in paridise and no annoying american accents.
I have come to realise that I don't take photos of the most beautiful things. So when I'm taking loads its more to do with expectations I guess. The cliffs of insanity (yes it is a Princess Bride reference and if you have read or seen it you will understand that it is impossible to capture them on film.) Part of me wishes I had an underwater camera, especially when we were at the marine park. but the joy of not taking photos is, you get to fully enjoy what you are seeing and experience it for yourslef and not for all those who want a picture and a story.
Stories I have more then I could share . . .but three weeks of non blogging will keep them in my mind and diary alone. Tomorrow, a full day cooking class . . . yes that means next time you come over for dinner I will subject you to Laos food!