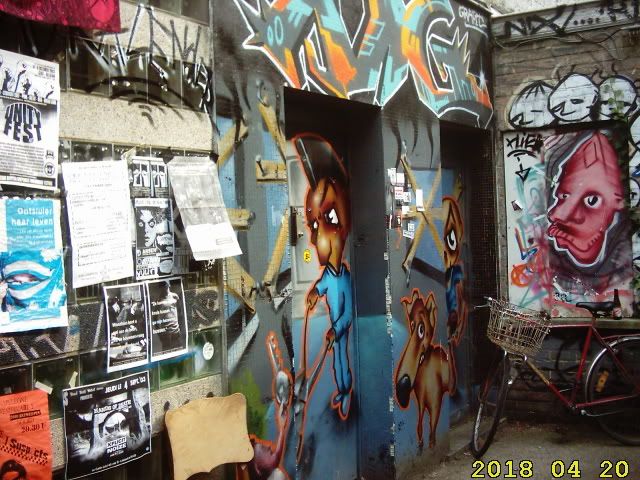 We were in Leuven, a small enough city outside of Brussels, say about 20 minutes by train since Tuesday the second, the Squat there is real nice. We were feeling like total tits and spare tools at first, bumbling around like fools offering help to anyone in sight who looked like they were busy, feeling all guilty about having this totally deadly place to stay. The language barrier was about as awkward as this key board, sitting around not being able to communicate with a large group of people, not sharing in their jokes and all that can be a little paranoia inducing. The squat was funny, seeing as they squated a bulding owned by Opus Dei. Same story in Belguim, they use their student hostels as recruiting grounds for new blood. Under Belgan law you can not be evicted untill the owner as concrete state approved plans for the property. The squat is ran by anarchists, who just also happen to listen to punk music...as opposed to patch wearing chaos punk types. Lots of different groups come together to run it, Anarchist Black Cross, Food Bot Bombs, RTS and the like. About 9 people live in it. On the first evening we attended this open day, where they tried to rally local support against Opus Dei's attempt to reclaim the premises, they seem to have a fair bit of support and it's a fifty fifty battle. The town is littered with posters displaying Opus Dei qoutes, exposing their real agenda. There wasnt much for us to do the first night, so we went to bed pretty early. The second night this girl Wendy, who was organising the gig there got me helping out, just putting out floor mats so people don't fall and break their ass when drunk.
Arsen were amazing, real passionate hardcore punk with female vocals, Vuur were like a souped up Capdown that have been listening to waaay more of the type of germanic hardcore, there was another band but they were rock star pricks.
The following morning i got to help Wendy do the dishes, got hanging out with her later that evening. She's really sweet and probably made the time in the squat a lot better than it would ahve been otherwise, just by being so sound, was nice to have someone to talk to all the time, considering all the language barriers. After the Arsen gig, she even came and spent three hours waiting with me while i got my tattoo, she had skipped work and a meeting wth her Ma just to spent time with me. Spent most of my time In Leuven hanging out with her, if I wasnt off bumming down town; or using the net. She gave us an address in Paris for a friends squat and is keeeping on touch over the net to ensure we are OK. Ended up spending a lot more time in Leuven than we'd originally planned, just left sunday, but that Oi Polloi festival thing was cancelled so it didnt fuck us up on time or anything like that.
You could say i went on tour with a band! Well i humped gear into a van, and got a lift to a youth centre in a van with Intestinal Disease, a band some people in the squat are in. That was wierd. A mad hardcore band with female vocals, then these straight ahead Minor Threat/ Black Flag types, and a ridiculous metal band, the kids, fourteen to twenty year olds were loving it mad outta it on drink and hash which they were consuming at their perusual in the youth centre, it even had a bar, Belguim is as liberal as Holland apparently, the centre was sponsered by Stella Artois.
Actually kind of sad leaving the place as we were made feel soo welcome, Wendy was really sound and made me feel really good again after the madness of Sunday Night at the Warzone, I'd happiy have spent three weeks there, playing football with the heads, running around with Wendy looking for places to chill out.
I decided on the tattoo for my leg
, the one I was deliberating over ; I've substituted a black star for the moon. Wendy from the squat came with me to get it done, which was really sweet of her, she had to wait three hours. They weren't going to do it for me as they were closing, but as i was travelling and hanging with the squat heads, they said yeah sure, why not, even gave me a discount. Its the one ive always wanted to get done, originally it symbolised a breaking down of political repression, but now there is a personal symbolism, in that i see a need for people to break down communication barriers without inebriation, that all comes from that warzone experience. I enjoyed the show in the squat the other night without chemicals, no need to down a pint to dance, just music, im sure my behaviour with drugs may change again, but i honestly think that the need for communication outside of getting drunk and stoned is something fundamental i now think, and will in future. Alas we had to move on.
Labels: Belguim, Music, Travel