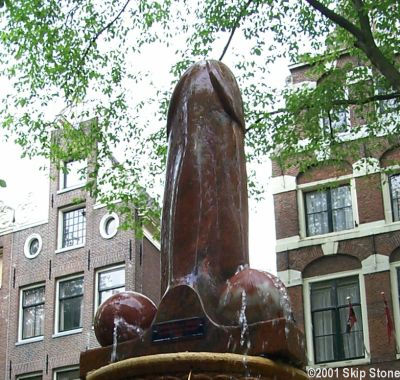 Wondering around Amsterdam on my last day on my own, in and out of the shops, writing post cards and thinking of all the things I would have to do next time I came. I wondered into the sex musuem. Not expecting much mind you, but I was too far away from any other gallary and museum and I only had thirty mins till amsterdam on a sunday shut down. The strangest thing about the sex musuem is that it did not drop you out into a gift shop at the end like all other musuems and gallaries in this city and seemily everywhere.
Considering how cheesy and pulp art it all was you would expect that you would be surrounded by dicks and breasts, postcards, toys, pics, videos etc. I suppose the only anwser to that is the rest of the city provides that level of sex consumerism that you don't need a shop. Then the question why do you need a museum if the city has sex on display already? Well the phrase is sex through out the ages. Those who put it together were conflicted on wheter to actually talk about sex and how it has been seen through out the ages or have three floors of a wax museum peep show and they choose the later.
I suppose no one wants a sex museum to be theoritical, to have an actual history and to talk about where the distictions like hetro and homo came from or how womens sexuality has been dipicted through out the ages. I suppose it doens't want to deal with the debates around pornography or the unionising of sex work.
The musuem is there for a laugh there was nothing sexy or informative. It was the condon shack spread over three floors and charging you two fifty in.
Sex on display - or rather explotation on display is all around you in amsterdam. It is all it most eveident point in the red light district where women of all ages and nationalities sit in windows hoping some horney guy will be turned on by there performance of fantasies. The fantasies are not all that extream or creative . . . deffinately no fetish club with extravigant outfits dipicting things from uniform to pvc.
Here you mainly get bikini babe or pole dance trash. There was one secretary looking girl flipping through a mag . . .but mainly its a split between brights bikinis and tired looking older women showing legs and cleavage.