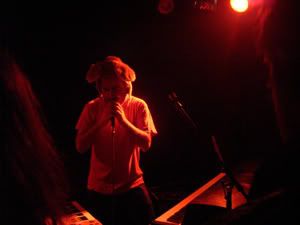 "I did a Kid 606 remix and all I got was this lousy tee-shirt." Said the tee-shirt he had on him. It was an ATP festival somewhere back in the mist of time 2003, maybe? On a good day. And there he was dancing like a demented coat hanger on speed: Max Tundra. April 2007.
Four Zero looms And yer all alone. Even de ice on the bar has turned into melted fizzy sweets. You've been drinking the pear Koppleberg again
Or one of its Norwegian variations. Do they have a name for that time between periods of non-sleeping?
But hark - there he is with a cute bear hat with sticky up ears aaaw. The pocket rocket. The mini prince of the nerd geek retro scene. And aren't we all there. Beards and glasses. A touchy affair
Back in the USSA. Paisley Park is in turmoil! Purple ring Purple ring ring
Prince:
Yo answa that mutha fuking 4-own
Who is it y'all?
Minian:
Its y'all stoopid geek version; Max Tundra from London UK on line 1
Prince:
waaaah no waaaaaaaay – tell dat mutha ####er I'm busy man!
Minian:
He has a NEW hat that he wears for instrumentals
Prince:
waaaah no waaaaaaaay
. OK I'll take that in the romper room
And he sings like Prince on speed, Freddy Mercury on hamster, not quite Marvin Gaye on booze… And he has more Gaeilge then most of the audience. And when he says he loves playing here you strongly sense it's the full and whole truth! The crowd call out random songs
He obliges with a snatch of "Bicyle" by Queen accompanied with every note on his old keyboard. And he plays, as Herv put it to me, with virtuosity, which is neither a word nor an action you see all that fecking much of really these days.
Highlights: – All the old tunes, all the new tunes (New album very soon. Along with - both hats but most especially the instrumental one. And the mini xylophone solo in his rocking instrumental –a two keyboard special mini rave out twist on the
KLF's
"What time is Love"
I'm bitter - I'm twisted - Max Tundra is not ####ing my sista. (Krossie you don't have a sister!) (Krossie hello, hello – its your parole officer its very important that we talk!) zzzzzzzzzzzzzzzzzzzzzzzzzzzzzzzzzzzzzzzzzzzz
Max Tundra played Kennedys in Dublin on April 27th. The photo of the pocket rocket is by Krossie.
Labels: Gig Review, Guest Blogger, Krossie, Max Tundra, Music