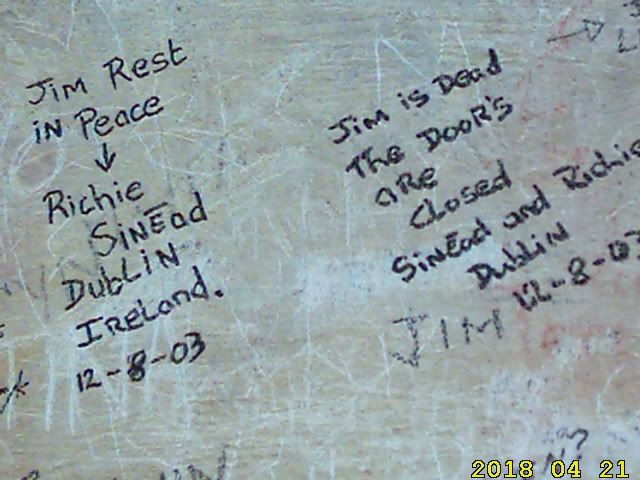 Arrived in Paris monday night, got fucked over on the TGV, didnt think we had to resereve tickets, thought you just hopped on like interail tickets conferred some god like status on you, apparently not since privatisation.. had our passports confisacated and forced to pay 20 EUR to get them back. We just had that street name for the place in Paris, found the street eventually. We thought it was a whole squatted street, but we couldnt find it anywhere, the next morning we copped it was a lane off the main street. Some peroxide blonde with decent enough english directed us to bench when we asked for a squat, think she thought we wanted to sit, realising what we were on about she told us it was a dodge neighbour hood and to get a hostel and find it tomorrow. There's some festival on and we couldnt find dot. Short had an address he got in Evian from some girl, found that but when he seen it was in a nice polite appartment complex he turned Shy and refused to ring the bell more than once. Alas, we ended up kipping beside a bridge in some park close to Place De Republique, a commerative street and statue near where the Bastille was fucked over in the Revolution. It was surprisingly comfortable, once you kept your head covered over with a nice sleeping bag, fortunately mine has one of those hood things. Considering how easy we found the squat the next morning, it was probably a good thing we didnt get stung for the cash needed for a hostel, and I'd do it again. I figure shit like sleeping rough for the sake of saving cash is a lot easier with a larger group, you can have a laugh and also there is the protective factor, the collective confidence of the group.
Woke up tuesday and got breakfast, was hesitant about that, wouldnt have minded another bit of kip..being doing loadsa of that lately, sleeping the travelling train journeys away Ordering stuff in shops can be well intimadating without a decent accent, had to post back some vinyl and i fely like i was talking to a head master. Sitting around bored in the squat, i picked up a political magazine by Alfredo M Bonnano, i could surprisingly understand a lot of it, i think when i get back i might make a concious effort to start reading in french, zines and the like, maybe have a glance over some basic grammer, just to improve my vocabulary, dont think thres much i can do about my accent and workinf grasp of it, reading is a lot different to the fast flow of a speakers pace. Must smash lingustic imperialism!
Went to see Jim Morrison's grave, Pere Lachaise is quite big, but I generally found that you just folow the obvious tourist types, who are making the trek to the grave. I spotted a hippy, and tailed him, Shorts a bit more into his map reading and standing around looking lost, i prefer to just suss shit out by street signs and asking about. I even got a picture of the Hippy. I hate that standing about looking at maps shit, feel like a spare tit, and plus it also limits your ability to just wander and discover shit, really get to know an area. Bloody hell the first nite in Brussels was a case in point, we went to a net cafe to search for a hostel, there was one right next door...Jims grave was a pile of shite, i went more for the comedic value.
Theres a hilarity in the icononisaton of people like him, id know i was a fan... you have philosphers, heads of state and then that bloated drunken cadaver with a mixture of eejits swooning over his grave with flowers like it was some bloody shrine to Buddha. Odd. They ahd to clean up the whole place recently because loadsa of graves had been spray painted with sign posts to the grave. ''Jims this way maaan...and an arrow!' Type of shit. 'The old hippy seems to be some sort of fixture in the place, with his black jacket and shades, notebook out pondering crap odes to Jim Morrison, theworkmen give the fucker a wave as they drive by. Some french randomer told me to put my feet down off a park bench on the grave yard, it was disrespectful apparently. Such a conservative country, such an emphasis on an unfounded respect for your elders. Used the net and dug up an exact address for the squat. Strolled around the street and found it, its a squatted side street, olds factories. Some of its used for housing illegal immigrants, there is an infoshop and an open squat but the one we're in is more like just where the activists live and some other heads. Theres a german and two israelis passing through it as well. We just stood around asking for Noks, eventually he popped his head out of a Window, it was so like something from a french movie but thank fuck we'd found some where to stay. Invited us in and we just sat around chilling while they smoked joints. Seems like a real nice bloke, so do the others, i gather they dont do much with their time, which is a huge change from the lifestyle in Leuven, where theyre always organising and doing stuff, i guess and gather that stuff is done more spontaneous here. They go by the phrase the police will evict us tomorrow, and that is how they live. There have been attempts and they have been beaten, like when gigs are on and stuff and raided, theyre around all the time apparently. To be honest i prefered the more hectic getting shit done spirit of the other place, there was always something on, but it was still really relaxed, and i felt there was room to get invovled, also i i didnt feel like i was intruding.
It lacks the communal spirit of Leuven, where everything was political, they smoke a lot of hash, and i tried talking to the Noks guy about the political scene in paris, but hes not overly forthcoming about much. i can really only tell what hes involved in from the posters and magazines in the gaff, they seem real extreme autonomous types, i mean theyve articles on armed struggle lying around. But then again, one look at my room and id be done under the special powers act as well if the political climate mitigated it. When i got stoned with them, i became convinced they were some sort of armed cell like the Red army faction, hence the lack of overt political action. Fucking hell, thats what hash does to you and hence why im trying to avoid it, but smoking fags chronically. Short cant roll, so i tend to roll and pass on straight away, still avoiding drink and drugs, i just roll seeing as they pass us joints. I Havent a clue if the rest are political or not, the german seems like a real airy fairy stoned dreaded hair type, the israelis; seem the same, just smoking blow and bumming; we all chipped in about two euro for food yesterday, and the fuckers didnt even save a bit for me and short; considering it was meant to pay for communal food for about 11 people, that was a bit of a kick in the teeth. A bit different to Leuven, im sure you agree. Dez, that guy you dont like seemed to not have been far off in his description of squattng in paris
Cops called tuesday night to harrass the immigrants squatting the factory opposite, they call noks and that the rats, they always abuse them in an effort to make them come out for a confrontation. They usually decline. The streets are riddles with political posters, for the salonika eight and a lot of anarcho syndicalist ones, asked noks a few questions about that, but he was a little unforythcoming and said he didnt work with anyone, which even for an autonomous is a bit odd.
Labels: France, Music, Paris, Travel