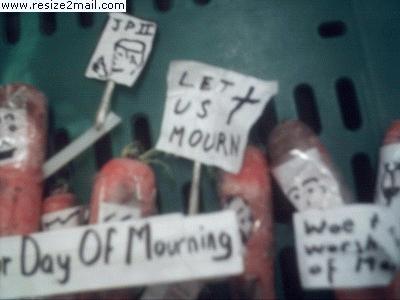 The Polish-born pope, who died Saturday at the age of 84, also had considered the possibility of a funeral in Poland, but later left the decision up to the College of Cardinals, which decided to have him buried under St. Peter's Basilica on Friday after a funeral in the square.

Pope John Paul II suggested in his last testament that he considered the possibility of resigning in 2000, when the Roman Catholic Church began its new millennium and he turned 80, according to the document released Thursday.

Meanwhile the Taoiseach Bertie Ahern has rejected calls for the declaration of a national day of mourning for the Pope.

Several countries throughout the world have declared official mourning periods and Mr Ahern has been coming under pressure to also do so in Ireland. Such a move would see all workers being given a public holiday to mark the death of John Paul II.

In Dundrum Shopping Centre today a dispute arose in the grocery section as several carrots and assorted vegetables held a silent protest to mourn the Pope's death.

Sheila McSpud, who is believed to be a leader in the dispute said:

"The death of the Holy Pontiff has caused serious anguish in grocery sections up and down the country. We find it absolutely insulting that the taoiseach will not facilitate us in our sorrow. It is quite clear just who he represents, and that is not the vegetables of Ireland who never even had a say in his election. Instead he has proven himself as siding with the owners and business classes. The Pope should come before profit.'

In ruling out the move today, Mr Ahern said this week was being treated as a period of mourning and he hoped employers would facilitate staff who wished to attend church services or other commemorations.