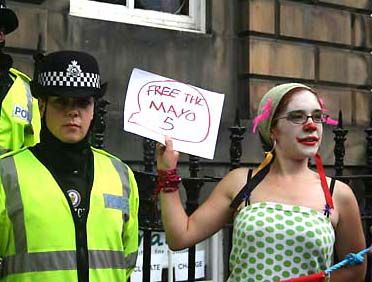 As usual the Irish barrio is acting as some predicatable social hub for anyone who likes staying up staring in to a fire and having intense conversations. It was 3am last night, we were still up and there came a panic an alarm that the police were entering the site. Rumour mill churning this was njo occupation, but rather two bobbies on the beat.
So with sleep supergluing our eyes together we got up before seven and shuffled over to the embers of the fire, before heading off on an over flowing fifity seater into the city to picket the consulate in solidarity with the Rossport Five. In an interview not a so long ago Philip McGrath referred to some of those at the solidarity gathering as 'Hairy mollies' this morning the hairy mollies struggled with hangovers and the paranoia of constant repetitious meetings and the tailing of the bus by cops to carry out what has so far been the most enjoyable action here yet.
Amidst a week of protest against the G8 Summit in Gleneagles international protesters today directed their anger at the jailing of five west Mayo men for their opposition to a Shell gas line in their area. Early this morning fifty protesters assembled outside the Sterling convergence site and were bussed into the Irish Consulate in Edinburgh city centre.
Protesters picketed the consulate in an expression of solidarity with the jailed farmers. There was drums, music, dancing and people dressed as clowns. Large banners had the names of the five imprisoned men and "Rossport Five Jailed in the names of Shell, Statoil and Marathon, Go neiri an bothar leat", others had the skull and crossbones and Shell signs.
An Irish participant from Dublin Aidan Regan said: "These Erris residents have raised a very legitimate complaint about the nature of this unprecedented pipeline, they are concerned with the long term safety and health of their community and family. In contrast Shell's interest and commitment ends totally once the gas has been cleaned and re-pressurised for delivery at Bellanaboy. Those from the Irish campsite at the G8 have raised the profile of the Shell to Sea campaign through talking to people from other countries. Today's action is a simple first step towards an internationalisation of opposition to the jailings."
There were about five cops at the consulate when we got there, guarded like every other building on the street contrary to some peoples paranoia. We danced as a fiddle, drums and guitar emerged. while clowns subverted the power of the cops others handed out hundreds of leafletts to passers - by. The police when they move in move in en masse, moving people off the steps and back on to the streets.
A jackeen clown described how 'its going fantastic, we have lots of people here from all different place, we have all difffernt types, we have a man playing the violin, which is lovely, and then nine vans of police show up to join in! I mean thats very important because on on these types of demonstrations numbers are very important, so its very good of them to come along they've even moved all of us off the steps and have taken up the blockade themselves which is fantastic and very nice of them. I'm very happy to see them here, but apart from that numbers are very important and its nice of them to show up especially in their nice uniforms, the yellow ones its good to have colour at these things as well.'
Enda Duffy, a participant over from UCD said ' basically I'm here to in solidarity with the foru peopel that have been imprisoned illegally by the Irish state because because they woudn't allow a pirvate company basically an unethical company to come on to their land and what they had left of their farms. Its a disgrace whats been doen to these people, its just a disgrace the irish state has once again let the people its meant to represent down.'
Eoin his brother described how 'basically we were just sitting on the steps peacefully, the cops have just come out and basically there was a van each per person so theres a big line of cops on the steps and we are peacefully protesting.'
Another described how 'Out of no where we hear the sirens, and then one riot van, two, three, four, five, six and there was nearly one riot van per person which is quite ironic really as it was intimidation tactics and we have to remember we have a right to be here and we will not allow these people to intimidate us.'
Original report and set of photos uploaded to
Indymedia.ie