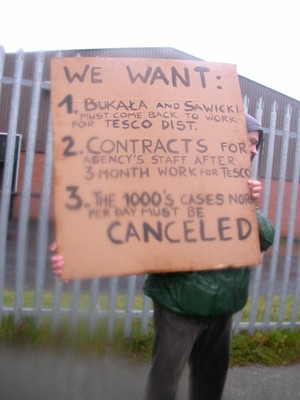 Two Polish workers who literally refused to break their backs for the boss in Tesco distribution have been fired. "Usually we pick 750 (boxes), but after three months of the normal rate our manager wants more, more, more . . . it's not possible picking 900. You must look after your back, and health and safety processes. If you pick 1,000 you'll break your back, you can not work like that." Work at first there seemed okay according to some of the Irish, but then Poland joined the EU and the company started to up the demands placed on workers in the centre as it started to hire Poles through a temp agency Grafton Recruitment.
The next time you're walking down Grafton Street keep an eye peeled for their poster. A young worker vaults over a pole - "Just how flexible do you want to be?" the poster asks - saying more about the insecurity of the modern work situation than any sociologist. "We have the interview every month and they say to us to pick up to 900 and a 1000. My manager told me I must pick up 130 cases an hour. It's ridiculous. The norm is 100. Anyway, there is no pick rate (anywhere else) in the whole country. After that he took in another guy and told him you must pick 140. Then another guy and he said to him 1100 a day. They say more, more more . . . you can not do that!" One of the fired blokes went into work one day wearing a T-shirt with the slogan 'no more than 900' on the front. Maybe this sparked the retribution from management?
The eight or so Polish workers standing in the rain start to look cheerful after a phone call. The fifty or so other workers in there have downed tools in solidarity with them. Every once in a while one of the drenched picketeers shouts across to security - "Today we strike!"
"In Tesco people were treated very badly. Used very much not as people but as a product. The target of work was increased all the time and there was no more pay for it, even when people worked harder than previously. Some of them do not agree with this situation and they will fight for the rights which they have." Later they tell me SIPTU organised a meeting on the shop floor. A phonecall from the union rep. advises them that their protest is illegal.
Eventually a group of three men, two in yellow bibs, emerges from the centre. Judging from the suit trousers and shoes peeking up at me from beneath the waterproofs, I assumed they were management. I eavesdrop. "This is an illegal protest lads, you have to follow the proper channels, there was work there for you but you didn't want it, you'll have your day in the labour court." Yeah - I'm sure they will, but as this bluffer for management that passes as a trade unionist heads back into the warmth the only thing I can think is that these two chaps will probably have gone through two more shit jobs by the time the labour court sides with the employer.
News of todays action bounced around a Polish anarchist list, made its way to Italy and eventually we in Dublin heard. In a bizarre internationalisation of struggle the media in Poland spent the day chasing after several solidarity demos there - "so our friends that were sacked from Tesco let them know via email and telephone and people from Squats in Warsaw and elsewhere protested as a solidarity act. There's a lot of people, and there is a lot of media. What's more the security in Tesco (in Poland) let people stay on the parking lot there. So I think to sum up, it will be in the press and media what is going down in Tesco across the World." Networks of punks, squatters and anarchists organised around the Rozbrat squat had picketed two Tescos in two Polish cities.
Walking up to this protest one thing was clear the summer has tucked its tails between its legs and hightailed, its wet and the down pour is miserable. There's maybe eight people in the distance, and there's no point trying to roll a smoke. one is holding up a soaked card board placard with the following demands - "1. Bukat and Sawicki must come back to work for Tesco distribution. 2. Contracts for agency staff after 3 month work for Tesco. 3. The 1,000 cases norm per day must be cancelled"
When they started working in Tesco, they were grateful for the 9.52 per hour, but after a while watching the Tesco system in operation they were forced to critically evaluate their role there. They find that Tesco will not give out contracts because it can get away with using and abusing agency workers. Then there are the agencies. They make money from their work, wringing them dry. In the middle, the workers usually foreigners with language difficulties, unaware of their rights and starved of work, take whatever is going.
Report originally published on Indymedia.ie
Labels: Class, Indymedia, Politics