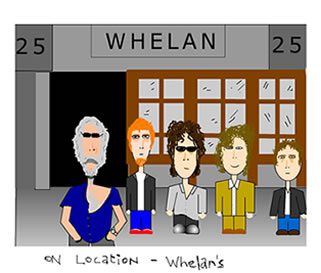 You may have noticed that The Frames have been reduced to an abusive shorthand for everything that's wrong with the Dublin indie scene on this site since its inception. Full of their own sense of sincerity, and framed by the head nodding antics of that other dismal muppet David Gray on a national level, the seeds were sown for the generation of moaning po-faced singer song writer cunts that now represent the elite of Dublin music. To cruel effect, a group of IT Tallaght students have developed a series of cartoons ripping the piss out of such luminaries as Glen Hansard, pitting him on a mission from God to prepare the ground for the second coming of Christ. They also do a worthy bout of Electric Picnic satire, projecting it as a festival for those "sick of northside knackers falling on your tent at 5am fucked out of their minds high on pot."
Over in
Langerland
images of Irishness are leaped upon to provide the engine behind a rather Father Ted-esque, self-derogotory humour. Of the best of these short features has Harney and Bertie adopting the role of Batman and Robin. The top ten what have the brits ever done for us, smacks of a suberpy placed sense of irony on the post-celtic Tiger Irish condition, iconoclastic as fuck it sweeps its way through a host of national stereotypes including teenage mothers, famine victims, alcoholic Irish labourers in Britain and all the usual shite.
If I said they used Aphex Twin as the soundtrack, you'd have some sense of what to expect of the multiple videos over at
Fat-Pie
. Each one viciously darker than the other, we see here a selection of fantastically misanthropic characters who dwell in a twisted and dark landscape of the blackest humour and the wierdest perversions. Fat-pies series of gritty, social commentary pieces on a Nordie Chav called Devo also managed to wind up as samples on one of the latest Shitmat EP's.
So check em all out boy.