All of those abiding by the idea that copyright exists to preserve iniative and future access to intellectual products, need only take a look at the
MAME
project to see the difficulties in their argument. Mame is an Multiple Arcade Machine Emulator, something that basically creates a little patch on your computer where the ripped data files of arcade and console games from the pre-Playstation era can be played on a program emulating the infrastructure of their relevant machines. The net abounds with dozens of websites offering downloads of the ROMs that made up the original games, download them and they can then be played on your PC. Amazingly, as always to satisfy a market urge, some companies now offer converters to allow you hook up your old console controllers to your machine. There's a wide and leery market in the cabinet cases of old arcade machines too, with fans seeking to
embed their PC's
in them, load them up with MAME and have their own arcade heaven in their gaff.
Remember consoles like the Commodore 64 ran off as little as 64k, compare that to the size of an average floppy disc. The SNES ran off 16mb, so what these technological obsessive are doing is recycling old hardware in order to preserve nearly two generations of video games in the sort of archive that no copyright respecting multinational would respect,
allowing you to play
hundreds of
old games
. Nintendo seem to be coping on to this and are looking to commodify the process with their new
Revolution toy
. More interestingly is the effect that this home brewing of video game software and hardware is having is the development of much more serious levels of piracy amongst users of new consoles like the PSP. The PSP is PC compatible - if you have the right USB connection, and with a memory card all of its own, ROMs are being downloaded off the net and fed into the slightly tweaked machine leaving you with free games. Now if I remember, the cost of games was always the real sore point for video-gamers, with an abundance of dirt cheap, shite games and the quality ones being well priced up.
The internet will breed all sorts of rabid fanatics, as the ROM and emulator revival online will testify. Having spent hours myself, trudging through ROM sites to download the sources of so much of a wasted childhood on the Nes, Gameboy and Snes, its rather frightening to see that sheer quality of the inbuilt mythology in a game like
Super Metroid
, something that devoured hours of my evenings for months could carry across what remains rather shoddy graphical presentations of the characters and levels that immersed you. For someone who quit gaming at the end of the second wave after a childhood brand loyalty to Nintendo, cultivated by Mario Bros cartoons and the wonders of the Legend of Zelda. Never progressing on to the Playstation series, these ROMS and emulators bring many abiding memories back, about just how passionate and obsessive those grey little consoles made me. Funny, for me Irelands technological lag in the eighties meant that my first encounter with video game technology was an Atari 2600, the first Atari console, my cousins had one in and around 1987, ten years after its release, Id still swear
Combat
is the most effective two player ever.
Try it here
. Quickly loading up some of these games for a momentary glance of their game play can be an odd experience today, some of the games retain their classic playability, the RPG's such as Zelda involving strategy and immersion in a plot still work. Others such as even the classic Metal Slug, bore as just another version of the age old platform/screen scroller classic that goes back to the first Donkey Kong game.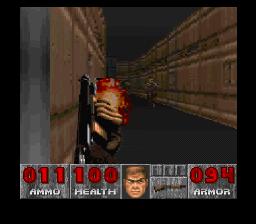 The best game remains Starfox which came packed with the original Snes box, with its Starwars-esque space battles as you controlled weaved through meteors and tail dived through the gaps in buildings and watch your enemies crash. At the end of the Snes era, you could see the system begin to crash as its graphics strove for the lifelike and cinetmatic quality that began to define the gaming experience from PSX on. Today a game like Doom which capitivated me with its paranoid levels of haunted demons amidst a mining disaster on a distant planet is so blotchy as to be almost unplayable. Equally games like Killer Instinct, and Mortal Combat whose violence led Nintendo to censor the blood and gore out were at the forefront of breaking with the cuteness that defined gaming, allowing the experience to move into an adult market. Anyway, now if only there were a ROM for Mariokart...