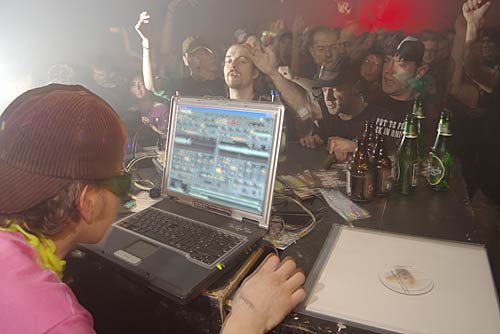 What happens when you add
this
,
this
and
this
? Probably the potential for one of Dublin's most chaotic and exciting club explosions, that's what's in store - as breakcore nutters
Leechrum Records
who brought over the likes of Planet Mu beat mangling beasts Exile and Chevron to these shores last year set up their own monthly club night in Fraizers on O'Connell Street. What once may have been a movement of isolated nutters sitting in gaffs downloading brutalized beats and tortured undanceable rhythms that reduce dance floors to gibbering mangled and usually mashed happy idiots has been stretching its wings and pulling devotees in under its wings in an organic flurry of growth over the past wee while. Dublin heads such as Herv, Lakker and others have brought the sound a certain degree of respectability, while the boredom of music scenes full of DJ's that barely dance to their own tunes, the combination of a truly jilted generation living off the jaded memories of musical movements that were worth latching onto means that breakcore is pulling in fans from across the alternative musical divide. No more traveling to the UK or Galway for the nuttiness, now it's setting up camp in the capital and we all better be there. First up its local rave revivalists T-Wok and Solen, with stand up comedy thrown into the mix. Check out the Leechrum site for details of their new monthly club nites, in Fraizers, and worst of all the bar serves Buckfast. ITS WROONG!
Leechrum are also organising a Leprechaun Error tour of some of the Brighton breakcore greats across Ireland. The line up includes Shitmat, Chevron, Ebola, The Gross Consumer and Nwodtlem hits Dublin on Friday 24 February, doors open at 10pm and it goes till late. So hand over your money suckers.