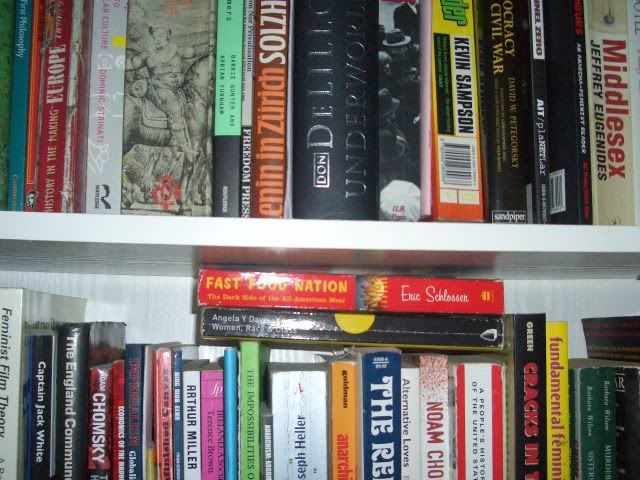 The Irish blogosphere is
awash
with people posting pictures of their bookshelves on the net this week. Given the high levels of procrastination I am prone to, any new internet fad is met with welcome arms, and now you can browse
my virtual book shelf
in the making too. Its worth asking the question, is this one among many of the pleasurable vanities the net opens up for us to indulge in? Library Thing sounds exactly like the virtual equivilent of leaving that unread tome on the coffee table to silently impress your friends. Until there is a greater conformance in handheld technologies offering the chance to share digitally ripped books, I can't see paper copies becoming redundant anytime soon. Neither can I see hard backs being downloaded over Soulseek for a quick toilet seat reading session. I hope Library Thing represents a genuine opportunity to further community, as those within a relative geographical vicinity of each other are now presented with the opportunity to swap and share books. But will they use it? Like most of these burgeoning online network that attempt to stumble off line, I'll relinquish holding my breath and await the hactivist liberation of
Google books
or
Questia
. Where once we browsed through libraries, we now secretly perve through other's virtual book shelves in trepidation of asking a lend.
Meanwhile in the real world and at the opposite end of this fragmented and individualised reading experience is Bad Books. For over a year now, a group of Dublin activists have been struggling to find a place to rent in Dublin to open an space and meeting point for artists and activists. Recently the Seomra Spraoi collective behind the idea, opened their
new autonomous space
and in doing so have provided a home for the itenerant
Bad Books libray
and the Forgotten Zine archive. The Bad Books library was started back in the heady days of the
Magpie Squat
on Leeson St. A library was set up, membership was on the premise of donating three books and you are in. Complete with its own unique libray membership cards held by assorted anarchists and alternative types, the library thrived before the squat was evicted, leaving over 500 books and 1,500 zines homeless. Temporarily given shelter in the Unawarehouse on the Nth Strand, the books and zines now have a new home in the centre of town. Carrying mostly rare, expensive and hard to get books of cultural criticism, political theory and histories from below, the new home provides an opportunity for more people to donate some of those books providing a dusty intellectual aesthetic to your hallway to a place where they'll be cherished and used.
Bookish types may be interested in a
special sale
to raise cash for future projects over on Autonomedia. Linked for years to
Semiotext(e)
, both publishers have been central early conduits for translations of radical continental philosophies to English. In the early days this meant Baudrillard and Delueze, now it means Negri and Federici. From breifly checking through the highlights, I recommend
Cracking the Movement
, just back from Amsterdam myself and rearing to get into this highly commended account of the early days of the contemporary Dutch squatting scene for some hints towards its now declining role.
Caliban and the Witch
is equally worth a look for a heady combination of a queered up feminist theory, that seeks to contextualise the meanings given to the female form within its reproductive use for capitalism. They also maintain the excellent
Interactivist Exchange
, a visit once a day is gauranteed to keep the Sky News blues away -
trust me
. And after that if you need a free bookshelf you could do worse than browsing through
Leinster Freecycle
for the pine book case I spotted this morning.
Labels: Internet, Literature, Seomra Spraoi, Zines